Building a Stronger Tomorrow
The majority of the partners and support staff at Davidson Fox are lifelong members of the communities we serve. We believe it is our responsibility as engaged citizens to assist those in need and raise awareness for causes that match the ethics our firm was founded on.
It is for this reason that you'll find the members of our firm serving on boards of organizations that benefit our community, participating in events designed to help those in need and donating time to community based outreach programs. We believe that these activities are key to growing a healthy, sustainable community that builds a foundation to help others thrive.
The needs of the organizations we're involved with go well beyond the time and effort our firm can contribute, but knowing that our members have made a difference in someone's life is what really matters the most.
---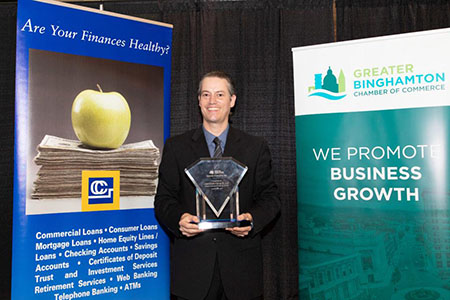 Davidson Fox & Company Awarded Corporate Sponsor of the Year
This award recognizes a company that has made not only a financial commitment to the Greater Binghamton area, but has also demonstrated leadership and hands-on employee participation.
Davidson Fox & Company is a full-service company of certified public accountants that offer tax, accounting and consulting services for clients ranging from sole proprietors to entities with revenue in excess of 250 million dollars. Over 2,400 returns were filed in 2020 for clients in 45 states and the District of Columbia. They service a variety of industries from manufacturing to retail to construction to not-for-profit. Beyond providing the highest standard of client services they possibly can, they embrace a company culture of giving back to their community.
They are a company of twenty-two employees and in 2019, those employees donated over 1,000 volunteer hours. Their employees serve on 28 various boards and committees throughout Greater Binghamton including ACCORD, Habitat for Humanity, Rotary, Sertoma, Mothers and Babies, Goodwill Theatre and many more. Employees serve as leaders on many of these organization Boards and six Davidson Fox team members donate their time serving in the capacity of treasurer for them as well.
In 2019, Davidson Fox endowed a scholarship at Binghamton University to promote the study of accounting and to further encourage students to remain in the area upon graduation.
Let's look at the financial impact Davidson Fox & Company had on organizations in our community in 2019 alone.
In supporting over 30 local non-profit organizations last year, the total amount contributed was over $53,000! Those organizations receiving financial donations included LUMA, Tri-Cities Opera, Hearts for Hope, Binghamton Devils, Southern Tier Aids Program Ride for Life and the American Red Cross Real Heroes Breakfast, to name only a few!
Davidson Fox & Company is not only committed to their clients but strongly committed to their community. Jack Salo, Executive Director of Rural Health Network of South Central New York has this to say about them: "In addition to providing excellent accounting and financial services, Davidson Fox & Company has consistently supported our organization through our fund-raising and sponsorship programs. Their professional and philanthropic investment in both Rural Health Network and the larger community is commendable and contributes to our region's quality of life."