The American Institute of Certified Public Accountants (AICPA) Peer Review Program mandates that CPA firms which maintain an accounting or audit practice be required to undergo a periodic peer review. The Peer Review Program is committed to heightening the quality of accounting services, auditing services and attestation services.
As a full-service CPA firm, Davidson Fox provides peer review services to other CPA firms.
---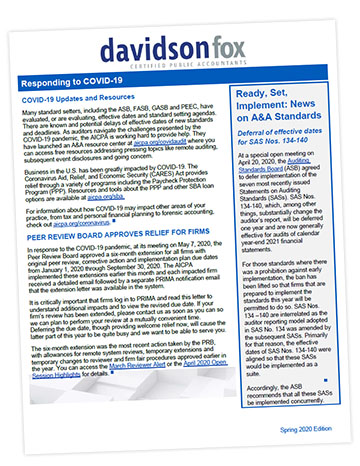 Download Spring 2020 PR Prompt
---
Our Expertise in Peer Reviews
Selecting the right reviewer for your peer review is instrumental in your firm realizing the full benefit of your review. The peer reviewer's own experience should reflect your firm's focus areas in order to obtain maximum insight and efficiency from the review. When you draw upon the expertise and real-world experience of our team, your firm can reap the benefits and rewards.
Davidson Fox provides both engagement reviews and system reviews for other CPA firms along with consulting on monitoring and pre-issuance reviews. Firm partner, Jesse Wheeler, sits on the Peer Review Committee of the NYSSCPA. As a CPA firm with a diverse client base, we can select a team for your review with a level of experience to match your specific practice areas, especially in "must select" peer review industries. Our industry experience of our CPA firm includes:
Single Audits under OMB Circular A-133 and Uniform Guidance
Not-for-profit
Employee Benefit Plans Including ESOP's
Construction and Real Estate
Manufacturing and Retail Distribution
Medical Practices and Healthcare
Professional Service Firms
Restaurants and Bars
Request a Peer Review Today
If you would like to get started with scheduling a peer review for your firm, please call us at 607-722-5386 to get started with an initial consultation.